Camping, Picnics, Caravans, Day Care Centres, Glamping
With the spring summer season soon to arrive, it is time to get yourself an extra-large outdoor rug which is perfect for picnics, glamping, camping trips, caravans, or any outdoor plan. We can help you choose one for yourself from our range of foldable extra-large recycled plastic outdoor rugs.
Cancun Aqua Outdoor Rug, sizes available – 270x360cm, 270x270cm, 240x300cm, 180x270cm, 150x238cm, 120x179cm & 90x179cm Recycled Plastic Outdoor Rug and Mat Cancun Aqua
An extra-large foldable and waterproof picnic rug that is big enough to...
It's now 4 years since we started selling doormats. With a selection of more than 50 designs we now offer one of the best collections in Australia. No matter what your requirement is, we have a doormat to make you happy. Made from Earth friendly and 100% renewable resources our doormats are ideal to create a warm welcome.
Looking for something colourful, stylish & yet simple to welcome your guests our PVC backed doormats will just be right for you. From a simple Hello or a classical HOME to a stylish...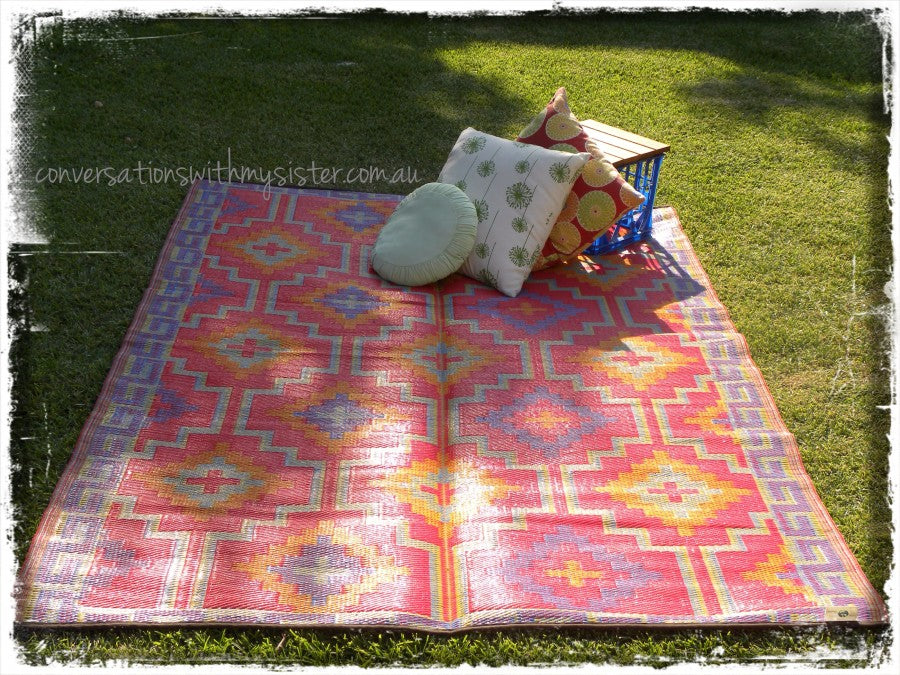 This rug is making an appearance on CWMS as it is made from recycled plastic. According to the retailer, Fab Habitat, all rugs are made using "shopping bags and other discarded plastic articles containing polypropylene." This makes the recycled plastic rugs extremely durable for use in high traffic areas inside as well as perfect for outdoor entertaining and picnics.
These 'Fab Habitat' recycled plastic rugs were discovered by my Sister-in-law almost two years ago. The Lhasa Orange and Violet Rug have been a feature in our front room ever since having the enlightening conversation about them. It instantly...
It has been 10 years since we started Fab Habitat Australia in Canberra, ACT and at times when I look back at all these years it leaves me humbled and feeling blessed. One gets to read all the little pieces of wisdom, but nothing prepares you to face the reality in a way living through them does. Going through the struggles and not knowing when they will end & if they are worth it makes it even more difficult to stay the course.
Fab Habitat started in 2010...
Let us take a moment to acknowledge the devastation caused by the current pandemic & pay our condolences. Many around the world have not been so lucky. Everyone has been affected in some way.
For many of us the next few months will be the time to take stock & rebuild our businesses. Countries around the world have gone into lock down leaving behind a trail of economic disaster, affecting supply lines. How we all come out on the other side will be interesting to see.
The only way the team at Fab Habitat knows how to survive...